Come fall, I cant resist the maternal impulse to shop for back-to-school supplies, even though its been a while since Ive had a student at home.
My only child did exactly what most parents hope their kids will do: He grew up, earned a degree from the university of his choice, found a place of his own, and started a grown-up job soon after.
Ill never forget the day his dad and I helped load his possessions into the back of his SUV, then followed him west across I-94. After unpacking his clothes and computer equipment, we waved a tearful good-bye in front of his new flat in Chicago and drove back to Detroit as official empty nesters.
Today, five years later, we still reminisce about our early years of parenthood and marvel at how quickly they flew.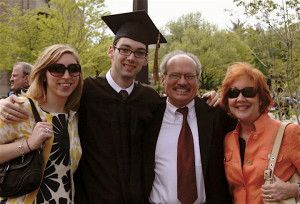 Even so, our empty nest transition wasnt nearly as wrenching as so many magazine articles had led us to believe.
Just as menopause isnt a disease to cure, the empty nest isnt a syndrome to overcome. Sending children to college, helping them move to their first apartments, and watching them exchange wedding vows are natural rites of midlife passage.
Better yet, many of my Boomer friends are happily redesigning their lives after raising families. One is booking exotic cruise trips with her husband; another started violin lessons. Others are busy refueling stalled careers and sluggish relationships.
 Rolling with the changes
So maybe we need a better term to describe our empty nest years?
"A word signifying a void or a vacuum is an unfair way to describe a time when life can be full of growth possibilities," note Laura Kastner and Jennifer Wyatt in The Launching Years (Three Rivers Press). The authors also remind us that young adults fare better on their own when they know their folks are adjusting to the changes, too.
In other words, helicopter parenting doesnt benefit anyone. Letting go means allowing our kids to score their own victories and learn from their own mistakes — without our hovering.
Still, its normal to grieve the loss of your old parenting role. And theres no shame in admitting youve got an achy little tug on your heart when you first unload your grocery cart and notice youre buying half as much ice cream as you did when the kids were home. When that happens, indulge yourself (like I did) in a private meltdown in the car. Or adopt another pet (like I did) from the local shelter.
But dont make your child feel guilty for leaving you with an empty bedroom to redecorate. Let her know youre proud of her independence – and celebrate the life you are crafting outside the boundaries of parenthood.
"Theres a trick to the Graceful Exit," wrote syndicated columnist Ellen Goodman in her farewell piece. "It begins with the vision to recognize when a job, a life stage, or a relationship is over. It involves a sense of future, a belief that every exit line is an entry, that we are moving on rather than moving out."
Even if your kids have flown the nest – and even if you dont have grandkids — treat yourself to some new school supplies this fall. Grab a fresh notebook and a set of pens in every color. Start taking notes on everything you want to do with the rest of your life.
This column originally appeared in the September 2013 issue of Michigan Prime.